The Collector's Dream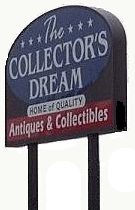 "Home of Quality Antiques & Collectibles"
Welcome to the home of quality antiques and collectibles. Whether you're looking for glass, china, jewelry, coins, or other collectibles, we have it all. Specializing in glassware, we have large a selection of Depression, Carnival, Early American Pattern, China, and Art Glass. We also supply Coins, Vintage Jewelry, Pottery, Sterling Silver Flatware, Stoneware, Sports Memorabilia, and many other collectibles. Thanks for visiting The Collector's Dream!
---
WEB INVENTORY
Below you will find links to categories of the items we sell. Our site is updated DAILY, so please visit often. You can view our newest items HERE. If you don't see what you are looking for, please contact us and we will be more than glad to let you know if we have the item(s) available in our store.

Warning: mysql_connect() [function.mysql-connect]: User collectorsdream already has more than 'max_user_connections' active connections in /home/content/08/5162608/html/index.php on line 40
User collectorsdream already has more than 'max_user_connections' active connections